Nick Carter At German Comic Con: Everything You Need To Know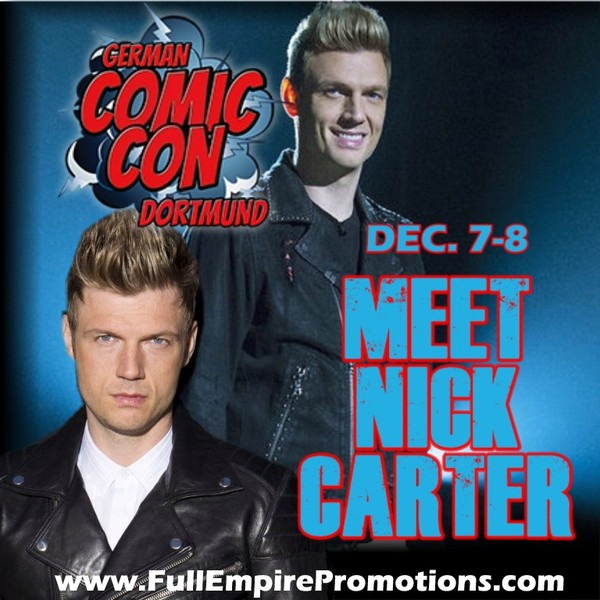 Germany… are you ready for Nick Carter?! This year has been a busy one, but Nick will be making a rare con appearance overseas this weekend at German Comic Con in Dortmund and he hopes to see as many of you as possible!
While he has done many convention appearances in the past, we want to make sure you have all the answers you need for a successful, fun weekend, so here are a few quick things you need to know.
Comic Con Hours
The con is open from 9:00 am to 7:00 pm on Saturday and from 9:00 am to 5:00 pm on Sunday for regular ticket holders. If you have purchased VIP / Early Entry Tickets, you will be allowed in an hour earlier. Nick will be at his table for most of the time during regular opening hours. Admission tickets are sold out.
Photo Ops
In addition to selfies and autographs, Nick will be doing multiple official photo ops with fans while at the con. On Saturday, photo times are from 11:10a-12:10p, 4:50p-5:50p and 11a-12p on Sunday - all in Halle 4 (all times are subject to change). Photo ops for both days are still available for purchase in limited quantities here.
Autographs / Selfies / Panel
You can get selfies and / or autographs with Nick at his table throughout the day. Autographs and selfies are 60 euros each and can be purchased ahead of time here (select the day and scroll down). The pre-purchased ticket entitles you to either an autograph or a selfie and is not attached to a specific time. You will also be able to purchase these items at his table. Typically, this has been cash only.
Nick will also be appearing from 2:35p to 3:20p on Main Stage for a quick Q&A. This is included with admission.
If you have any other questions, visit German Comic Con's website or drop it in the comments below. We can't wait to hear about everyone's experiences! Share your updates on social media using #GCC and #GermanComicCon.