Backstreet's (Giving) Back!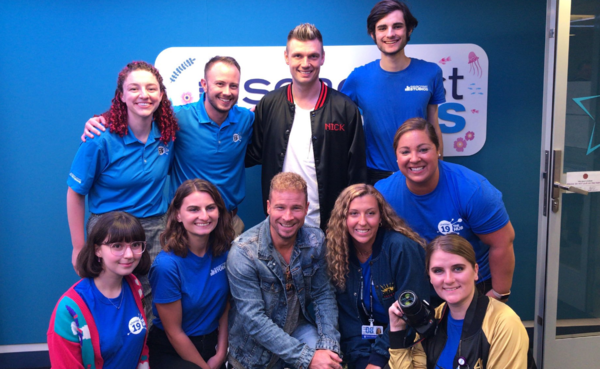 The Backstreet Boys might be hopping to different cities every other night, playing sold out arenas on the DNA World Tour, but that doesn't mean they're too busy to keep giving back. In fact, hitting so many tour stops has given them a larger number of opportunities to really make a difference.
Following Nick's visit with the children, parents and staff (and giving us a perfect Cookie Monster imitation) at Minnesota Children's Hospital, he joined band mate Brian Littrell in Boston for a day at Seacrest Studios at Boston Children's. The pediatric patients were given an opportunity to ask the two Backstreet Boys a variety of questions, from motivation and inspiration to favorite flavor of chicken wings. You can watch some of their visit in Boston Children's instagram story highlights under Seacrest Studios.
Heading South on tour, AJ McLean joined Nick and Brian in a visit to Songs for Kids Foundation in Atlanta. Songs For Kids is a foundation that give kids with illnesses, injuries, and special needs the opportunity to express themselves through music. With 3/5 of the band present and a lot of wonderful children, they recorded what might be the most special version of "I Want It That Way" to date. You can watch it here!
...And that's not all! The Backstreet Boys have now done what they do best and found a way to get fans involved in giving back while simultaneously rewarding a few lucky fans as well. By donating as little as $10 through Prizeo, fans will be entered to win a luau with the Backstreet Boys (and much more!) during their stop in Hawaii in November. The best part, though, is that all donations will go to benefit Coalition For The Homeless, the nation's oldest advocacy and direct service organization helping homeless men, women and children in New York.
"This all came about from watching the reaction to the subway singalong video that Joel Wertheimer posted. Joel took this viral magical moment to spotlight to an organization close to his heart - the Coalition for the Homeless. I started doing research on the organization and its mission statement resonated with me. I spoke to my bandmates and we really wanted to do something special for them and the city of New York. We're so excited to be able to help bring awareness to the issue of homelessness around the world and hopeful that as a group we can affect change," Nick wrote on his instagram following the launch of the campaign on Tuesday.
While the grand prize for donating is a trip to Hawaii, there are other things that you can purchase with your donations as well, including everything from a BSB DNA exclusive tee to a personalized message from Carter himself (only one left at the time of this publication). Watch the video below to hear the details straight from the Boys themselves.
What are you waiting for? Start giving now!
If you can't donate - that's okay too! Please consider sharing the campaign to spread the word and help fund this wonderful cause for the greater good.