Catching Up With Carter: Out and About On The 'DNA' Tour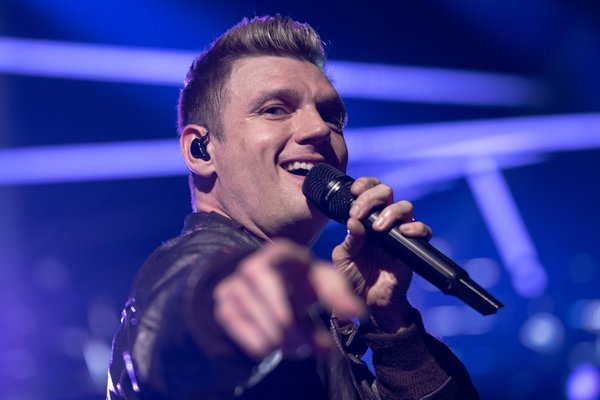 There's just over a month left on the North American leg of the Backstreet Boys DNA World Tour and so far, it's been jam packed with fun moments, sold out crowds and custom jerseys in almost every arena so far.
As always, Nick Carter has been super busy soaking up the love from fans along the way, serenading the audiences of 10,000+ with a snippet of "The Way It Was" nightly (which has quickly become a fan favorite moment this tour), and joining his Boys for a nearly two hour setlist that is sure to please anyone - young and old.
But that's not all he's been up to! Take a moment to click below and see all of the cool things Nick has been doing offstage while out on tour, including being a Backstreet dad, of course.
- During a day off on the West Coast, Nick stopped in for a visit with tattoo artist Corey Bernhardt to permanently mark his love for Tampa Bay Buccaneers… on his arm. He took to Twitter to show off his new body art and declare his predictions for this football season, resulting in a pretty epic bet with Good Morning Football co-host Pete Schrager!
- The Backstreet Boys celebrated 500,000 concert attendees on this tour at the iconic Staples Center in LA, where they played a sold out crowd. Audience members in Los Angeles included Full House's Andrea Barber, JoJo Wright and NSYNC's JC Chasez among many others.
- The stop in California also reunited Nick with his family, who continued with him to Chicago, where they spent the day playing at Chicago Children's Museum. "Even though I'm very busy being a Backstreet Boy, it's always important to dedicate time to my little one," Nick wrote on Instagram below a video of he and his now 3 year old son, Odin, building with toys in the museum.
- While millions of fans are meeting the Backstreet Boys this tour, Nick has been meeting a few idols of his own. From Stevie Nicks to the members of Korn, he's making it known on social media that he knows exactly how the audience members feel when his own group hits the stage every night! Make sure you're following Nick on instagram so you don't miss any other special guests and epic shots from the show every night.
- Last but not least, Nick and Howie D. have kept the afterparties going in select cities on tour. Keep checking back on backstreetboys.com and the Boys' social media. Please remember that all events outside of the concerts are subject to change, but always a good time!
We're excited to share even more amazing moments as the tour continues and the Backstreet Boys' appearance at this year's iHeartRadio Music Festival draws near. Nick, Brian, Kevin, Howie and AJ are unstoppable -- what could happen next? Stay tuned!