Nick Carter Celebrates The End Of BSB Vegas Residency With Fans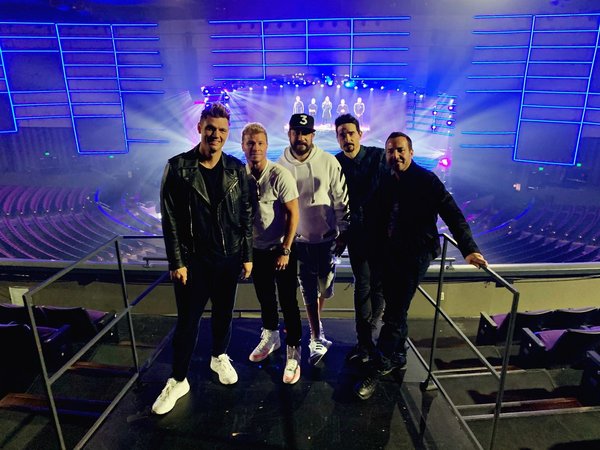 It's been almost a week since the Backstreet Boys closed out their Larger Than Life Vegas residency after 80 shows at Planet Hollywood and fans (and the Boys themselves) are still reeling from the end of an era.
"Vegas has changed the Backstreet Boys' lives," Nick told the crowd on the final night. As fans know, he made the city of Las Vegas his home at the beginning of their residency in 2017 and has since raised his family there and become very involved in the community. Speaking of family, Nick made the last few shows a family affair by bringing son Odin onstage for his birthday the weekend before and wife Lauren onstage (along with the other Backstreet wives) for the final performance of "Shape of My Heart".
To really celebrate the successful run in Sin City, Mr. Carter kicked off the last show day with brunch and a pool party, where he performed an acoustic set (accompanied by a guitar and cello!) for some of his biggest fans in town for the show. Not only did he perform a few BSB classics, but one or two cover hits as well. Perhaps it was his cover of Richard Marx' "Right Here Waiting" that garnered the most attention when Marx himself acknowledged how great it sounded and that Nick is actually one of his own favorite singers!
If you attended the pool party and have not yet downloaded your meet and greet photo, what are you waiting for?? Find yours here!
It may be the end of BSB Vegas, but a new era is upon us. The Backstreet Boys DNA tour, their biggest in years, kicks off in just a few days and from the sneak peeks that Nick has shared on his Instagram, it is sure to be one for the books. Get tickets while you still can - multiple cities are selling out quickly!
Are you ready?