Keeping Up With Carter: February 2019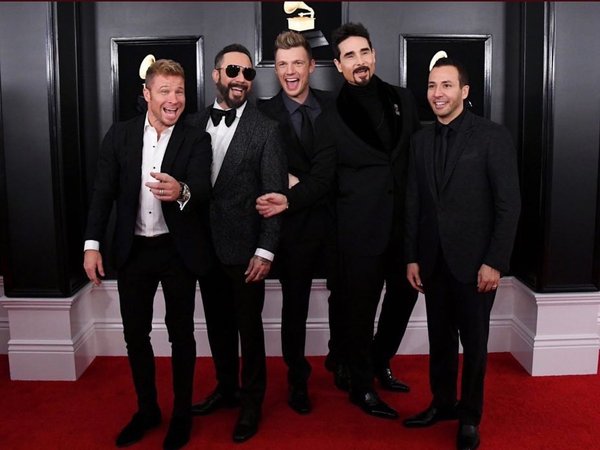 From #1 album to #1 band on Billboard charts to an epic Superbowl commercial and a return to the Grammys red carpet, Nick has had a jam packed beginning to 2019. With the return of the Backstreet Boys Larger Than Life Vegas residency, upcoming DNA World Tour and more in between, it won't be slowing down anytime soon!
It can be hard to keep up with everything going on, so if you've missed anything in this past few weeks, keep reading for a catch up with Mr. Carter.
- The Backstreet Boys album DNA hit #1 on the Billboard Hot 200 chart a week after its release and the group was the #1 artist in the country on Billboard's Artist 100 chart for the first time ever. Watch Nick's thank you to everyone who made the success possible here.
- The Boys teamed up with Chance The Rapper for one hot, epic Doritos commercial collaboration for the Superbowl, that had Time calling for the new version of "I Want It That Way" to be released as a single and for the BSB to perform in next year's halftime show. Ahead of the game, Nick and the rest of the band spent a day in Atlanta to attend press day for the Superbowl. Watch their interview with Jenny McCarthy, wife of former tourmate Donnie Wahlberg, where they discuss their Vegas residency, the Doritos commercial, celebrity fans and more here. (Oh, and they hung out with Kevin Hart.)
- Speaking of celebrity fans, Kaley Cuoco shared on her instagram last week that the cast of Big Bang Theory, currently in its last season, performed a choreographed flash mob to the Backstreet Boys' "Larger Than Life" as a thank you to their fans. Kaley previously worked with Nick on 8 Simple Rules and The Hollow.
- iHeartRadio asked the Backstreet Boys to talk about items in a box from Backstreet past and Nick was full of the fun facts. Check it out here. They also reflected on their success with Time magazine.
- Need details on the upcoming world tour? Nick is dropping a few hints to Times Now News!
- Nick hit the Grammys red carpet for the first time since 2002 with the Boys and wives. While they may not have won, their look was killer and had social media buzzing about their return. Nick spoke to Entertainment Tonight about how being a Backstreet Boy never gets old and how "surreal" it feels to be back at the Grammys to People.
- Remember when the group hung out at Steve Aoki's house? Watch more footage here
- Here's one lucky baby! The Backstreet Boys sung Watch What Happens Live Andy Cohen's newborn son a sweet lullaby that you'll be wanting for your own bundle of joy
- BSB Vegas has returned...with less than 15 shows left! Be sure to grab your tickets and keep an eye out for those epic afterparties here.
All caught up? Great! Like we said though, Nick is only just getting started and this year has only just begun. Head to the fanclub to tell us what you're most excited about -- you never know who might comment on your blog!