St. Nick (Carter) Toy Drive Event Is A Massive Success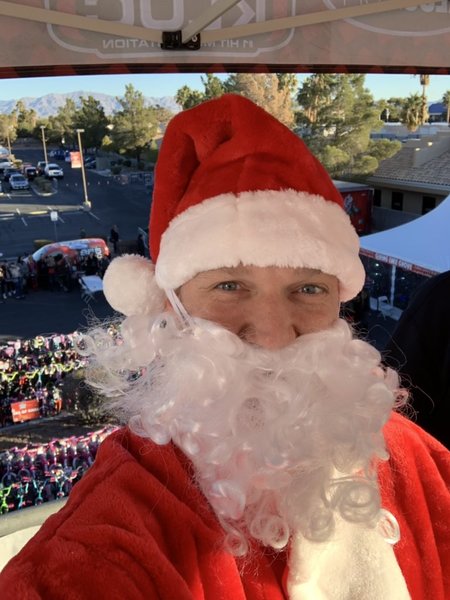 Nick has been spending his downtime between Backstreet ventures giving back to his local community in big ways and this week, he found a way to incorporate his love for fans into doing it again.
For the past 20 years, 98.5 KLUC's Chet Buchanan has been doing a Toy Drive during the holidays to ensure that children from the local Las Vegas community have a happy holiday. This year is the first time that they've had a St. Nick with a kissing booth.
...And that's where fans came in.
For a simple donation of $20, fans could meet Nick, who was decked out in Santa suit and all, grab a kiss on the cheek and a photo to commemorate the moment. The day was a win-win for all, but most importantly, the children who will benefit from the donations.
"I have a child and I see how important toys are to him. I think about those kids that don't have the opportunities to have those toys and to be a part of this and to help a child out there is incredibly important to me as a father," Nick explained to Fox 5 Vegas when they stopped by on Monday, adding that "giving back is the most important thing we can do".
Las Vegans poured in for their chance to meet the Backstreet Boy and were eager to give back as well. Some fans were lining up as early as 5am (with the first person in line showing up the night before) and many got back in line to donate a little more. At the end of the day, $2400 in cash was donated as well as tickets for the Backstreet Boys Vegas residency (a $10000 value) for a total of over $12400 donated from this event alone.
"Las Vegas has given us so much… and to give back to this community is everything to me."
If you couldn't make it to the St. Nick Toy Drive event and would still like to donate to the cause, click here and select 2018 Toy Drive from the drop down menu anytime between now and December 10th.