EXCLUSIVE: Nick Answers Questions About Upcoming Tour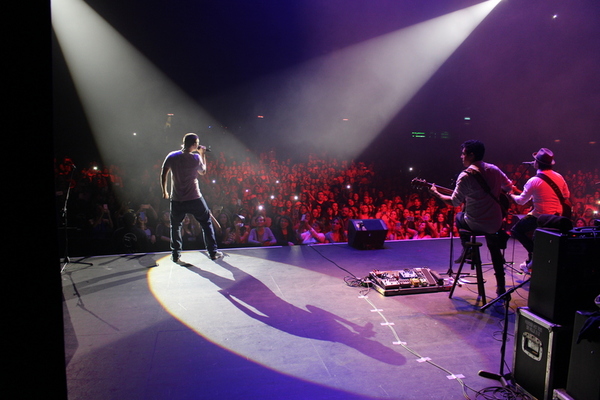 When Nick Carter ended his All American tour in Canada at the end of 2016 and the Backstreet Boys announced their Las Vegas residency (plus finishing up their 10th studio album), fans weren't expecting to see him working on any solo projects anytime soon.
So, when he revealed earlier this year that he is working on his next solo album and announced a limited solo run for Mexico and South America last month, everyone was surprised (and thrilled) to say the least.
Now, we're a week away (!!!) from his 2018 tour kicking off in Mexico City and everyone is clamoring to see what exactly Nick has up his sleeve for these performances. If you're wondering, keep reading.
Nick took some time from prepping to head back to the stage to answer a few questions about his past time in Mexico and South America, what can be expected on the upcoming tour, and if he is STILL working on that solo album.
(We also chose a few questions from Nick Carter fan club members last week. Thank you to all who submitted. If you want an exclusive opportunity to ask Nick a question in the future, join the FC now!)
Fans are so excited to get a few solo dates amidst a busy Backstreet schedule! Is it reinvigorating for you to touch base with fans as a solo artist from time to time, especially when it's a smaller number of dates in a different area?
Nick: It really is. I love reconnecting with fans and being able to create new memories with them. Ideally, I'd get to see them every year!
"What can we expect from the tour? A new version of the All American tour? A new set? Same?" - Almiux
Nick: I'll be blending together some new elements in with old parts of my shows from previous tours. Playing instruments here and there. It'll almost be like All American 2.0.
Besides the fans, what is one thing you look forward to when visiting Mexico and South America?
Nick: The food!!
"I know that being a dad must have changed everything to you and Odin inspires you in all the aspects of your life! Do you think this new chapter of your life has changed the way you create your music?" - Camilla
Nick: Everything I do now, I do for him. That includes making music. I want to create something that he will be proud of down the line. It's amazing how he's changed my life in just a few years.
-------
Fan Club Members: The rest of the Q&A is posted here in the Blog section EXCLUSIVELY FOR YOU, including what band Nick would love to cover, favorite memories, and his pre-stage ritual!
Need tickets and / or VIP Meet and Greet to see Nick ASAP? Click here!