The Backstreet Boys Return To VMAs With Rooftop Performance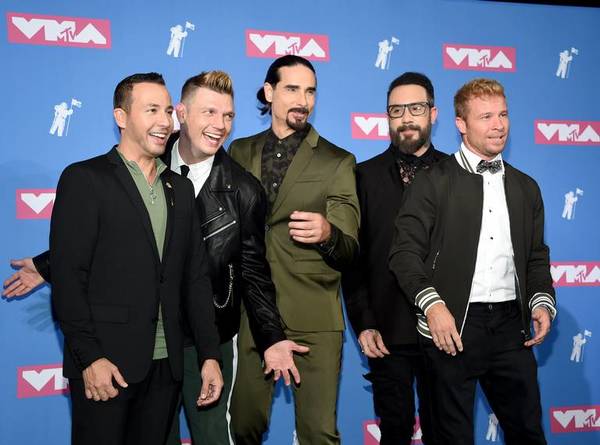 A week after ending the Backstreet Boys Summer Vegas run at Zappos Theater in Planet Hollywood and a week BEFORE heading to Mexico and South America for a brief solo run, Nick Carter headed to New York City to join Kevin, Howie, AJ and Brian for their return to MTV's Video Music Awards.
The Backstreet Boys, who were a VMA staple in the late 90s, have not attended the award show as a group since 2001, which made their 2018 appearance even more special. Not only were the Boys invited to present Song Of The Year (for which they SUNG the nominations), but the fivesome also performed their new single, "Don't Go Breaking My Heart", atop the roof of Radio City Music Hall to segue from the preshow to the main event. Watch the pitch perfect performance below!
Earlier in the day, Nick took on a judge role yet again when the BSB stopped by MTV studios to judge a impromptu karaoke session for one lucky person to win tickets to the VMAs last night. As expected, the show ended in a giant "I Want It That Way" sing-a-long that you can not miss! If you did, indeed, miss it, you can find it here.
While we can't wait to see what's in store next for the group, we also can't wait to see what Nick has in store for Mexico and South America starting the end of next week! If you haven't grabbed your tickets and VIPs yet, see what's available here. Can't make it? Well, there's always Vegas. See you there?