Everything You Need To Know About FanBoy Expo This Weekend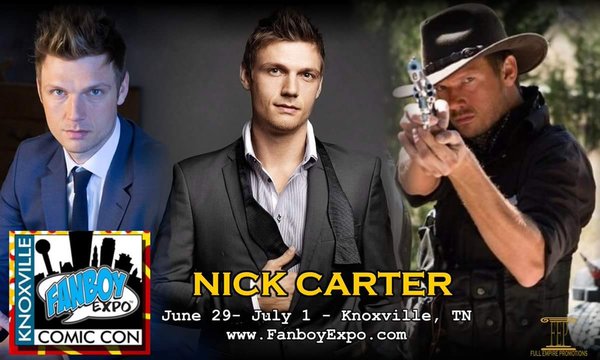 If you're headed to Knoxville this weekend for FanBoy Expo to hang out with Nick Carter, AJ McLean and Howie D., it's sure to be a good time, but it can be a little overwhelming. So, we've compiled everything you need to know to make your experience the best one possible!
What are the hours the con is open?
Friday: 12pm – 7pm
Saturday: 10a – 6p
Sunday: 11a – 5p
If you have purchased a VIP package, your entry will begin an hour earlier than what is listed.
How much are tickets?
Tickets range from $25 to $148. You can purchase and find details here.
How do I meet Nick?
There are multiple ways! You can purchase a professional photo op with Nick (or multiple Boys – a duo and trio option are offered) or wait in line at his booth to take a selfie or snag an autograph. Nick will be at his table in between photo ops, panel and breaks. If you purchase a Nick Carter Fan Package, you will be granted VIP line entry for his table specifically.
Added perk – the photo op photos are printed immediately after they are taken! If you want an autograph and you don't know what you want it on, this is a popular idea.
How much are selfies and autographs?
Selfies are $40
Autographs are $40
Selfie + Autograph Combo is $60
Please note that these options are CASH ONLY!
What times are photo ops?
Friday: BSB Photo Op @ 4:15pm
Saturday: Nick Carter @ 12:30pm / BSB Duo + Trio @ 4:15pm
Sunday: BSB Photo Op @ 1pm
All times are subject to change. Please refer to the schedule here.
Will Nick, Howie, and AJ be doing anything together?
They will be doing a Q&A panel at 3:30pm on Saturday in the ballroom. This is free with admission.
If you're headed to Fanboy Expo this weekend, be sure to share your pics and experiences with us.
Have more questions? Leave them in the comments!