Nick Carter Says The Backstreet Boys Are Feeling 'Reinvigorated' And Ready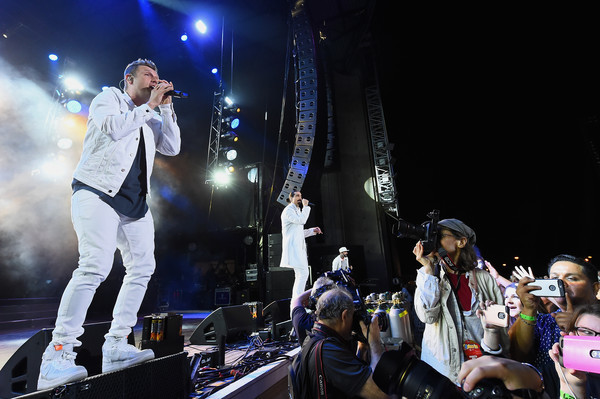 "We feel rejuvenated. We feel reinvigorated. We feel like we're ready to do this all over again."
That's what Nick Carter told 95.5 PLJ's Todd and Jayde this weekend when the Backstreet Boys dropped in to discuss their latest single, "Don't Go Breaking My Heart", and what their plans are for the future. While in studio, they were also asked about their feelings on wildly popular K-Pop group BTS.
""What I love about them is that they perform, first and foremost. They can sing. They can rap," Nick said of the Korean boyband, who he has admitted that the Backstreet Boys would love to potentially collaborate with in the future.
Speaking of other groups, the Boys also ran into 5SOS this weekend as well. The Australian group has made it no secret in the past that they're BSB fans and even refer to wild career moments by saying "that's so Backstreet". It's no surprise that Nick ended up with a personalized jacket from the band before the weekend was over after performing with 5SOS at KTUphoria on Friday.
Between the Backstreet Boys' performances at BLI Summer Jam, KTUphoria, and KISS 108 Concert, they also dropped in for several interviews, discussing everything from what it's like to be on the radio again to why Nick refers to the group as the "Tom Brady of pop music" plus a few fun trivia games! Watch all of the best moments below.
Nick will join the Boys in Miami on Friday, June 22nd and be back on the East coast for Good Morning America on July 13th.
Keep an eye out – you never know where he might pop up next!