Nick Kicks It With Fans In Chicago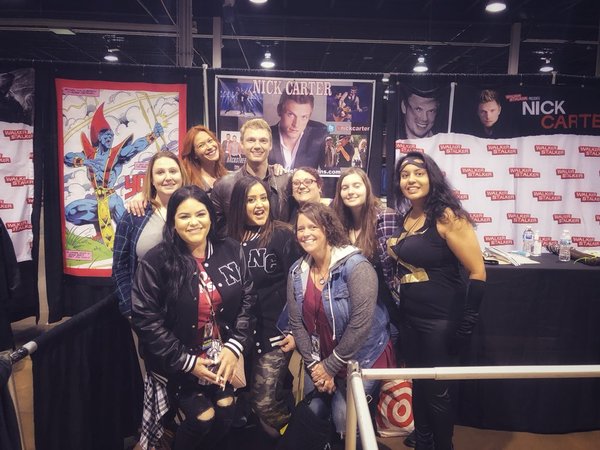 There were three things you could find in Chicago this past weekend: cold weather, Nick Carter, and a LOT of people waiting in line to see him.
In his first con appearance of 2018 at Heroes and Villains Fan Fest, Nick was met with lots of familiar faces and some new ones, who were there to snag a selfie and meet him for the first time ever. Lines at his booth were non-stop for the less than 48 hours he was there and Carter did his best to meet and have a small chat with every person waiting.
Not only did he snap photos, sign autographs and take time to chat with fans and attendees, but during an interview on the live stage, he gave some insight as to when we can expect new music from the Backstreet Boys, revealing that they will be shooting a music video for their new single in the upcoming week! That's music to our ears (..ha). He is also still looking to do another movie in the future.
Scroll through the rest of the post to see some of the best tweets and photos that fans shared from their weekend with Nick. If you're looking to catch him at a con, he will be appearing at Fan Boy Expo in Knoxville, TN on June 29th - July 1st. If you'd like to see him at your local conventions, let the con holders know!
@nickcarter so so happy!! Meeting you was a dream come true!! You're amazing!! pic.twitter.com/ycJ4UhdT8q

— Patience_Jolynn (@patiencejolynn) April 7, 2018
@nickcarter I loved meeting you, Nick! You're so sweet! Been a fan since the beginning of BSB! Love you and thank you! pic.twitter.com/o2N0UGff9A

— Alicia Camacho (@thisisvoodoo) April 7, 2018
@nickcarter thank youu soo much . Youu made my dayy !!! pic.twitter.com/ADtGo54tue

— ° Sofiia ° (@sofialejandra93) April 7, 2018
Me and @kwitt2328 got to meet @nickcarter today at @WalkrStalkrCon and it was amazing!!!! My day has been made!! pic.twitter.com/31e2fc38j3

— Emily Witt (@emwitt08) April 7, 2018
@nickcarter Thank you so much for an amazing day My mom and I couldn't be happier! Thank you for being so sweet and always so down to earth. You are the best! Oh and btw, my mom is matching colors with your outfit by coincidence and LOOK AT OUR JACKETS. We matched too! pic.twitter.com/dIDXeXpu3W

— BrendaBVeganhead (@BprincessBTR) April 7, 2018
We couldn't believe that it had been two years since we last spoke, but @nickcarter and I picked right back up from where we left off! This guy is awesome and I hope that we work together again in the future! #BackstreetBoys #WSCChicago #WSCLIVE #VOFF #Respect pic.twitter.com/p4GCGQgXLs

— Dave Solo (@RealDaveSolo) April 8, 2018
I was there and got my pic with him! Always wanted to met the guys for 25 years lol. I asked what happened about the single that was suppose to come out and he said the new song blows that one out of the water!! And in the video they are shooting in a few weeks they are dancing. pic.twitter.com/yNtgMcy9Ud

— Brian Tomaszewski (@bsbbiggy) April 8, 2018
I actually got to meet @nickcarter. So sweet. Been a BSB fan since the beginning. Like all the guys but tbh Nick was always my fave. pic.twitter.com/IfPYlOUCTB

— Jocelyn (@jociguzman) April 8, 2018
So, yesterday I did this: I finally met one of my teenage idols, @nickcarter of the @backstreetboys . Did I totally forget to tell him that their song "Never Gone" got me through the toughest time of my life when my mom passed? Sure did! So thank you Nick, for just being you. pic.twitter.com/FXim4WeqpF

— Lyndsay (@TuesdayInJune) April 8, 2018
This line never gets shorter. @nickcarter has longer lines than the Walkers! Your LOVED NICK CARTER! pic.twitter.com/RMLsFvb45X

— Krazy4BSB (@Krazy4BSB) April 8, 2018
So this just happened! Fan of 25 years...dream realized. Thank you @nickcarter for being so generous and taking the time with your Chi Town fans!! Can't wait for your solo album and BSB World tour! #bsb25years #inspiration #nickcarter @_Nick_Nation_ pic.twitter.com/gJzroU7OZX

— Alisha Flores (@AlishaFlores20) April 8, 2018
@nickcarter you completed me today! Thank you for truly listening to a fan. I love my life all because of you guys @backstreetboys pic.twitter.com/p28KMxToY7

— Kim Seabolt (@BSB4LYF5) April 8, 2018
@nickcarter MY DREAM has come true. I haven't seen BSB since I was like 14 yeah I'm old, but meeting you today was a dream come true @WalkrStalkrCon #Chicago pic.twitter.com/MK1CZmAA6k

— Jen Sparks (@Jen_Sparks1019) April 8, 2018
@nickcarter I was SO nervous meeting you yesterday, but thank you for being so awesome! This totally made my life!! pic.twitter.com/zyiyW3va46

— Sarah (@surrahh_boots) April 9, 2018
So this just gets its own post all by its self... @nickcarter! We. Met. Nick. Carter. Like BSB's Nick Carter! I've waited almost 20 years for this moment & I loved every second of it!Great guy! Ahh still can't believe I met him. #BSB #BackstreetBoys #NickCarter #WalkerStalkerCon pic.twitter.com/uSNHEfkkxv

— RoSe (@RaW2504) April 9, 2018
Thank you @nickcarter for talking to my mom on the phone today at #walkerstalkerchicago!!!! She was so shocked and nervous but she told me you made her year. you're amazing #wonderful #loveyou

— Taylor Morgan (@taymo_84) April 8, 2018