Nick Kicks Off Holiday Radio Shows With BSB + A Sale You Can't Miss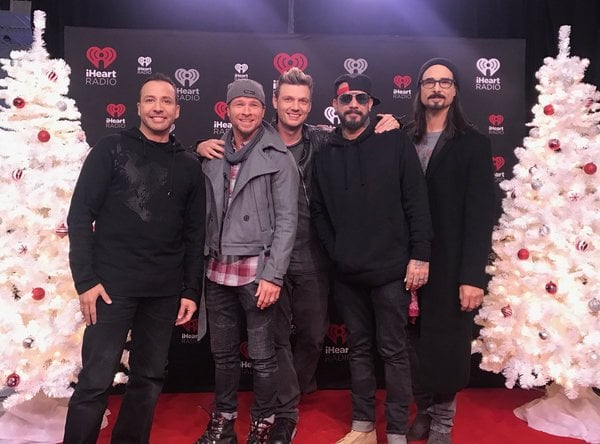 It's Christmas time again!
If you have been on social media at all in the past week, you have probably seen that Nick and the rest of the Backstreet Boys are getting ready for the holidays in a big way – with fans, of course. While they've spent the majority of 2017 on the West coast, the Boys are back in town at six different holiday radio shows scattered throughout the East side of the U.S.
The fun kicked off last week in Charlotte, NC, Chicago, IL and a return to Canada in Toronto, ON, playing to sold out crowds alongside other pop heavy hitters such as Fifth Harmony, Why Don't We, Kelly Clarkson, and Taylor Swift. Their 45 minute set has been wowing several different generations of fans for these past three shows, but it's what the Boys are revealing backstage that has everyone talking.
What are they talking about exactly? Their plans for 2018, of course! Watch the interviews below to get all of the details straight from the men themselves.
If you're looking to catch one of the holiday shows, they'll be in Indiana on Tuesday (12/12), NYC on Wednesday (11/13), and Connecticut on Saturday (11/16). Click here for details. If you're attending or have attended any of the shows, we'd love to hear about your experience in a FC blog!
If you can't make it to any of the shows, but still want to get into the holiday spirit with Nick Carter, you might want to check out the sale that is currently running in the NC store. Whether you're looking for a last minute gift (order by tomorrow to get it by 12/22) or simply treating yourself, you will receive 25% off your total merch purchase from now until 12/25 (plus free shipping on orders over $50 if you're shipping within the U.S.). Oh, and have you seen the new holiday sweatshirt?
Keep an eye on nickcarter.net for ALL of the latest (and perhaps a few special surprises – you never know)!
Who Is The First Person The Backstreet Boys Send Their Music To?
What's The Backstreet Boys Favorite Christmas Song?
The Worst Gift The Backstreet Boys Have Ever Received
Z103.5 Pina's Backstreet Boys Interview (Toronto)