Nick Visits Patients at UMC in Las Vegas + Ways YOU Can Help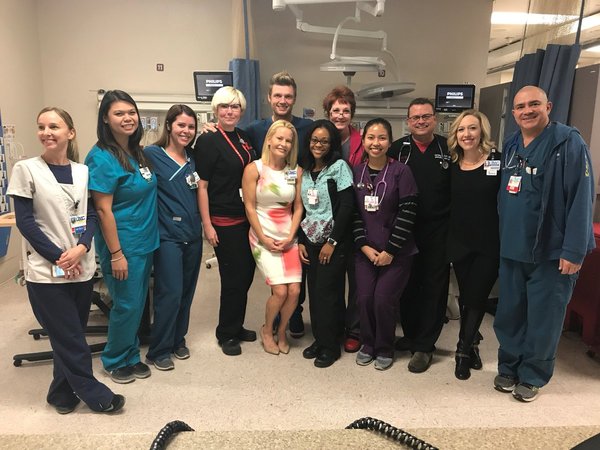 On October 1st, 58 people lost their lives and 500+ were sent to the hospital with injuries following a mass shooting at Route 91 music festival. The city of Las Vegas was changed forever and will be healing for quite some time.
As you all know, the Backstreet Boys began a residency in Vegas earlier this year, prompting Nick to move his family to the town permanently. After tweeting shortly after the tragic event that his heart and prayers were the with family and loved ones affected, he spent today at UMC Trauma Center, where many of the victims are still healing nearly a week later. You can see the photos of Nick with staff and a patient below. We are sure that it made their day a little brighter.
. @top_raman21 it was an honor to meet you today at the hospital. Stay strong and get well soon, Your # 1 fan. #VegasStrong pic.twitter.com/BuINp1w0VU

— Nick Carter (@nickcarter) October 7, 2017
Thank you @NickCarter for visiting us #UMCtrauma pic.twitter.com/yylkTcejRf

— Mary K Boggan (@ernursemary) October 8, 2017
Nick hung out at UMC, Nevada's ONLY Level I Trauma Center today to cheer up patients & visit with staff. Text Vegas to 50555 #VegasStrong pic.twitter.com/4NYoKeDRq2

— backstreetboys (@backstreetboys) October 8, 2017
While time has passed and the outpouring of love and giving has been flooding into the city of Las Vegas, there's always more to be done. If you are looking for a way to help, check out some suggestions below. Please continue to keep the victims and their families in your thoughts as they continue to heal.
The Clark County Commission Chair set up this GoFundMe page to help victims with medical bills. The Backstreet Boys recently donated $10k to this fund in an effort to allieviate the burden of cost of care for those who are in the hospital receieving aid. You can also text 'VEGAS' to 50555 to donate $10 - SIMPLE!
If you are in or around Nevada, please consider donating blood, especially if you are O Negative. The need right now is not as great, but it's always appreciated. Get details of how and where here. Don't have time to wait in life? Schedule an appointment ahead of time for your convenience!
If you are in the Las Vegas area, check out this Facebook page where people in the area are constantly updating with what is needed most or asking for volunteers.
Know of other ways to help? Leave it in the comments!