Spotlight Story: What Has Been Your Coolest Moment With Nick?

Spotlight Story is a new feature for Nick Carter Fan Club members to share their stories, memories and comments about Nick with other fans for a chance to be featured in the News section for the month and win some NC swag.
Each month, a new topic will be posted in the FC forum and all you have to do is share your story!
With only a few events coming up before Vegas starts back in November, we wanted to know what your coolest moment with Nick has been. You all shared so many great memories (read them here), but the Spotlight Storyteller for September goes to Jodi (Crazy4BSB1999), who involved her whole family!
"There have been so many amazing moments with Nick from 1999 to now. However, my most cherished memory comes from when my daughters & I went to the All American Tour together and had VIP!
My daughters have grown up adoring Nick and so of course, I had to buy VIP when he came to town. We were given so much attention, and had a blast together! Then came the time for individual photos! To see my girls being able to talk to Nick one on one, even though briefly, was nothing less than amazing. And as Nick was talking last to my daughter, Sami, the next thing I know he's motioning for me and Sky to come back over to him. He had us come up so Mike could take a group "family photo" with my camera. He had just made the ending of an already amazing night PERFECT! He never rushed us and even suffered (haha) through me showing him baby photos of my girls wearing "I love Nick" shirts. He made the 3 of us feel so important and like we were the only ones in the room. And it meant the world to us. It's a night we will never forget!
To top it off, when I was in Vegas without my girls recently, he was so kind to make them a quick hello message for me to send to them. The memories I have with my daughters over the years because of our love for Nick mean the world to me. From the time they were tiny to now. Nick has brought us WONDERFUL memories that will last a lifetime. Thank you for that Nick! It truly means the world to me."
You've definitely raised your girls right, Jodi. We can't wait to see you all at VIPs and concerts for years to come. See the family photo with Nick below!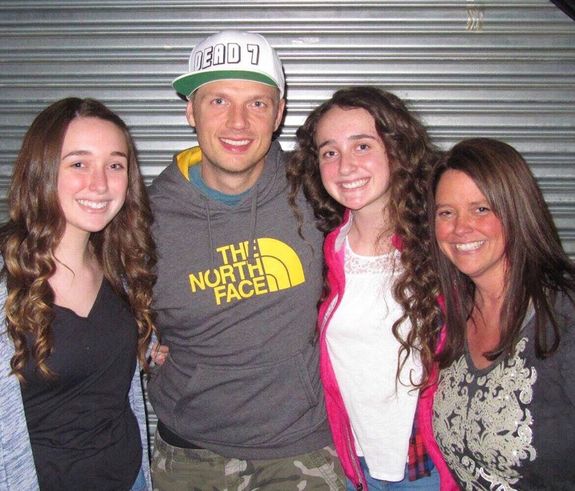 For this month's topic, head to the fanclub forums. We can't wait to hear your stories!